Sale!
Dualtron Mini Electric Scooter
199 in stock
FREE SHIPPING !
Satisfaction Guaranteed
No Hassle Refunds
Secure Payments
The Dualtron Mini is a compact, powerful scooter that's comfortable to ride, easy to maintain, and is built by one of the best brands in the industry. With a 52V 17.5 Ah LG battery, the Dualtron Mini has a range of 37 miles. Unlike dual-motor Dualtrons, the Mini is under 50 lbs, has a quick-release handle so you can easily fold and go, and fixed handlebars that are nearly 2' wide. With a single rear 1450W motor, the Mini reaches speeds up to 31 mph. Not only that, the Mini can climb a 10% grade hill at up to 20 mph with a 165-lb rider. The dual suspension and 9" street tires are perfect for handling urban roads. If you're looking for a premium, performance-level commuter, the Dualtron Mini's got you covered.
The Dualtron Mini weighs 48 lbs and has a max rider weight of 220 lbs
With a drum brake in the rear, you have ample stopping power and don't have to fuss with fluids or rotors like with hydraulic brakes
The 9" x 2′ pneumatic (inner tube) tires come on a split rim for easier tube changes
It has programmable LED lights in the stem and on both sides of the deck, front deck lights, and rear brake lights
Get VORO Dualtron Membership with purchase, including 10% lifetime discount, dedicated customer support, exclusive tutorial library, and more
Have questions about buying the Dualtron Mini?  Chat with our Team
Performance specifications, specifically top speed and range, are VORO estimated values based on multiple linear regression and often differ from manufacturer's projected performance. Range, top speed and hill climbing ability will vary depending upon rider size, riding style, and riding environment (terrain, weather conditions, incline, etc).
Top Speed
31 mph (50.1 km/h)
Hill Climb Angle
20 degrees
Max Load*
220 lbs (99.7 kg)
Item Weight
48 lbs (21.7 kg)
Battery
52V LG 17.5Ah 1050 Wh
Controller
52V Square Wave
Tire Type
9′ x 2′ Inner Tube
Brakes
Rear Drum with ABS
Suspension
Rubber / Spring
Dimensions Folded
43.7" x 7.6" x 16.1"
Dimensions Upright
43.9" x 23.8" x 46"
*For single-motor electric scooters, we recommend a max load ~180 lbs. Although these models can accommodate the rated load, the estimated performance is based on an average rider of around 150 lbs (5'7′ tall), and loads 180 lbs+ will tax the scooter.
Performance you can carry anywhere.
Do not underestimate this lightweight folding electric scooter. With a top speed of 31 mph (~50 kmph) and distance range of 37 miles (~60 km), makes it one of the best small size adult e-scooters on the market.
9′ pneumatic tubed tires provide comfort and stability. Replacing the tires is easy enough for anynone to DIY.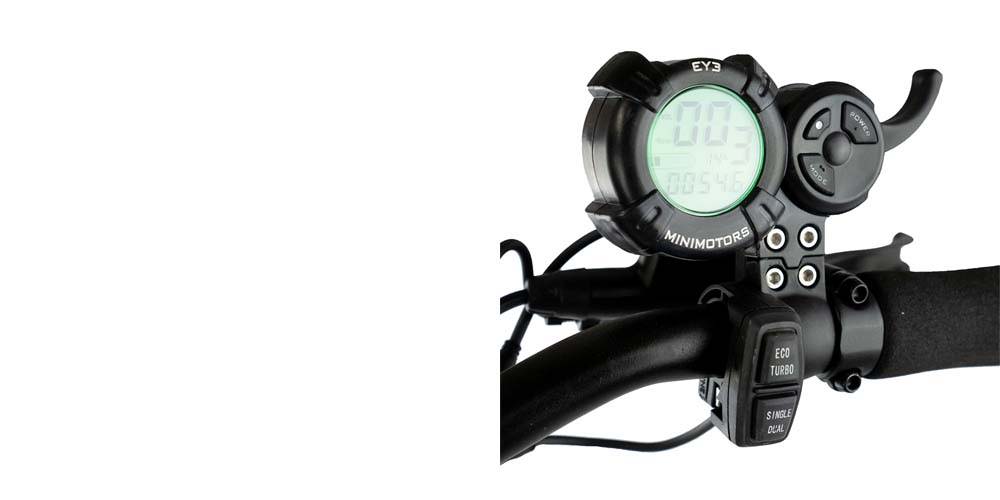 This backlit LCD screen makes it easy to ready better under sunlight, and is water resistant protected.
The Dualtron Mini is one of the most suitable models among the Dualtron product line if you are looking for something thrilling while remaining on a budget. The Mini packs enough punch in terms of speed and range, while remaining easy to store and carry around.
Super compact Dualtron electric scooter weighs only 48 lbs (~21.7 kg), but is equiped with a max 1450W BLDC Dual Hub Motor for power.
The Mini stays visible at night with LED side body, front wheel, steering tube, headlights, and taillights.
Comfort is acheived with a wide enough deck that easily fits both feet. Feel safe and sturdy when riding the Mini.
The Mini has a rear drum brake with Electronic Anit-Lock Braking System (eABS) that reduce the chances of skidding when emergency braking.
Official Distributor of Dualtron scooters in North America
with 2 years warranty coverage with every purchase


Exclusive VORO Dualtron Membership
We already own the largest after-sales video support library in the electric scooter industry, and we plan to develop the most comprehensive Dualtron tutorials as well. Plus, you'll have modification tutorial videos so you can DIY if you want. Ask us anytime, and we'll film tutorials based on your needs!

World's Longest Dualtron Warranty
When you purchase a Dualtron, you deserve amazing coverage. Spending $1,000-$5,000 and only getting 6 months of warranty does not make any sense at all. We protect your purchase for a 1 year period. Check out our warranty policy here.

Dedicated Dualtron Customer Support
Instead of talking to different customer service reps any time you reach out, you get a dedicated person that's Dualtron knowledgable, and knows any issues you might have had because you've already talked about it. One person for all your scooter solutions.

Lifetime Discount On Accessories & Spares
As you might already know, no one — even us — gives discount codes for accessories and spare parts. Exclusive for customers that purchase Dualtron electric scooters, you'll get a 10% discount code for all Dualtron accessories and spare parts… for life!

Professional Modifications with VORO
Want a Pro? Our professional technicians can do the modifications for you at our locations. The Best Part? Unlike with most other electric scooter warranties, modifications that we recommend do not void your warranty!
Ships Out In 1-2 Business Days After Order Is Placed.
Got a question about warranty, shipping or anything at all?