Sale!
Dualtron Storm Electric Scooter
199 in stock
FREE SHIPPING !
Satisfaction Guaranteed
No Hassle Refunds
Secure Payments
What makes the Dualtron Storm electric scooter so elite? It's incredible build and insane performance has granted it the reputation of being the ultimate ultra performance scooter for anyone that wants the best of the best – because it is. What the 102 lb Storm lacks in portability it makes up for in low-maintenance, high-quality features, including a removable battery for convenient charging, huge tubeless tires which are less prone to flats, and 45-step rubber suspension for customizable comfort. The massive deck and rear foot rest are covered in grip tape for great traction, and the deck is conveniently pre-drilled to install a seat (if you need one for those 50+ mile rides). Let's put it this way: if you want a scooter that can replace your car, the Storm has got you covered.
With dual 3320W hub motors, the Dualtron Storm top speed is estimated at 59 mph

The Dualtron Storm range is estimated at 59 miles with its 72V 31.5 Ah li-ion battery offering 2268 Wh of capacity

With dual Nutt hydraulic brakes and 11" x 3.5" tubeless street tires, the Dualtron Storm has a very short tested braking distance of 10.7 ft

In acceleration tests, the Dualtron Storm went from 0 mph to 15 mph in just 2.1 seconds

The Dualtron Storm lighting package includes deck headlights, deck tail lights, a tail light with built-in turn signals in the foot rest, ground effects logo LED, and programmable LEDs in the stem, sides of the deck, and swingarms
Here's the Dualtron Storm User Manual
Have questions about buying the Dualtron Storm electric scooter? Chat with our Team
Performance specifications, specifically top speed and range, are VORO estimated values based on multiple linear regression and often differ from manufacturer's projected performance. Range, top speed and hill climbing ability will vary depending upon rider size, riding style, and riding environment (terrain, weather conditions, incline, etc). Estimated acceleration is based on testing performed by Electric Scooter Guide (ESG).
Top Speed
59 mph (95.1 km/h)
Acceleration
4.9 s (0-30 mph)
Hill Climb Angle
35 Degrees
Max Load
330 lbs (150 kg)
Item Weight
102 lbs (46.2 kg)
Motor
6640W BLDC Dual HUB
Battery
72V 31.5Ah LG 3500
Controller
40A Square Wave
Tire Type
11′ x 3.5′ Tubeless
Brakes
150 mm NUTT Hydraulic
Suspension
Adjustable Dual Rubber
Water Rating
Light Rain OK
Dimensions Folded
47.6" x 12.6" x 23.8"
Dimensions Unfolded
47.6" x 24" x 51.1"
WATCH US UNBOX AND SET UP THE DUALTRON STORM
The only storm you will enjoy riding in.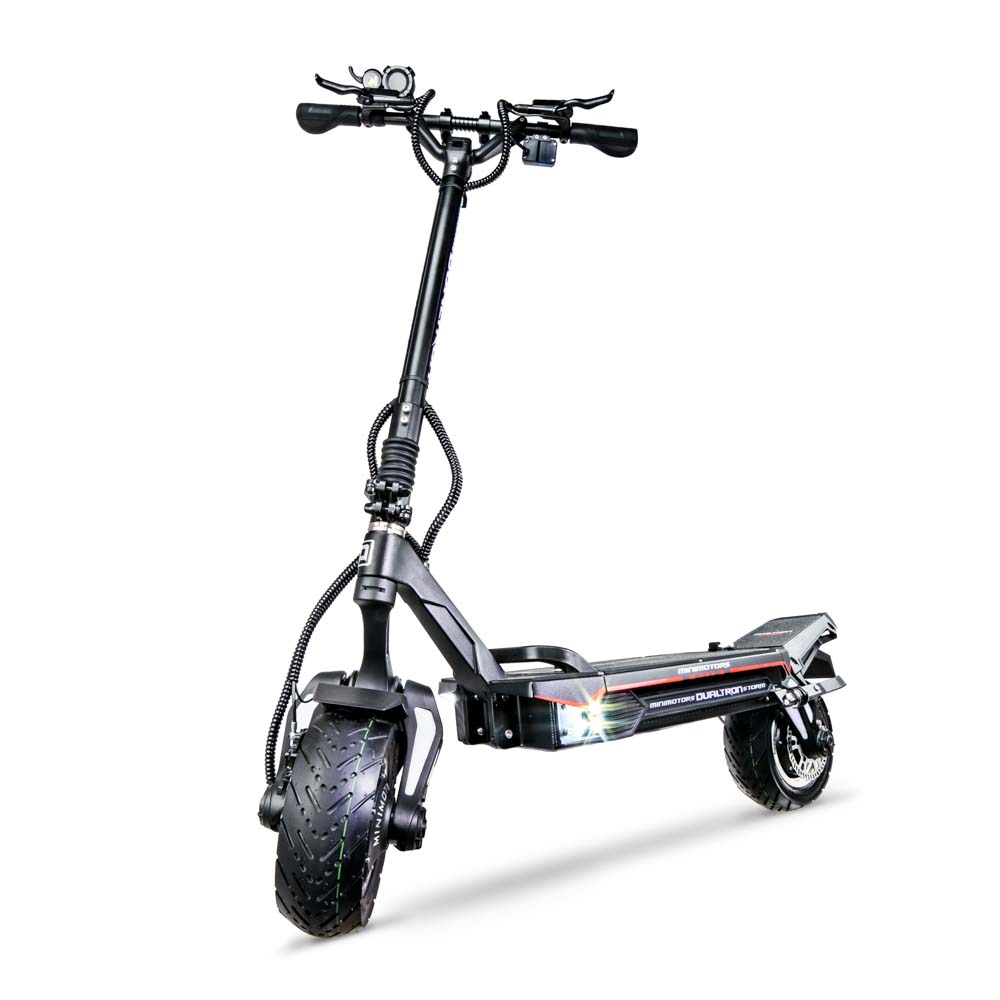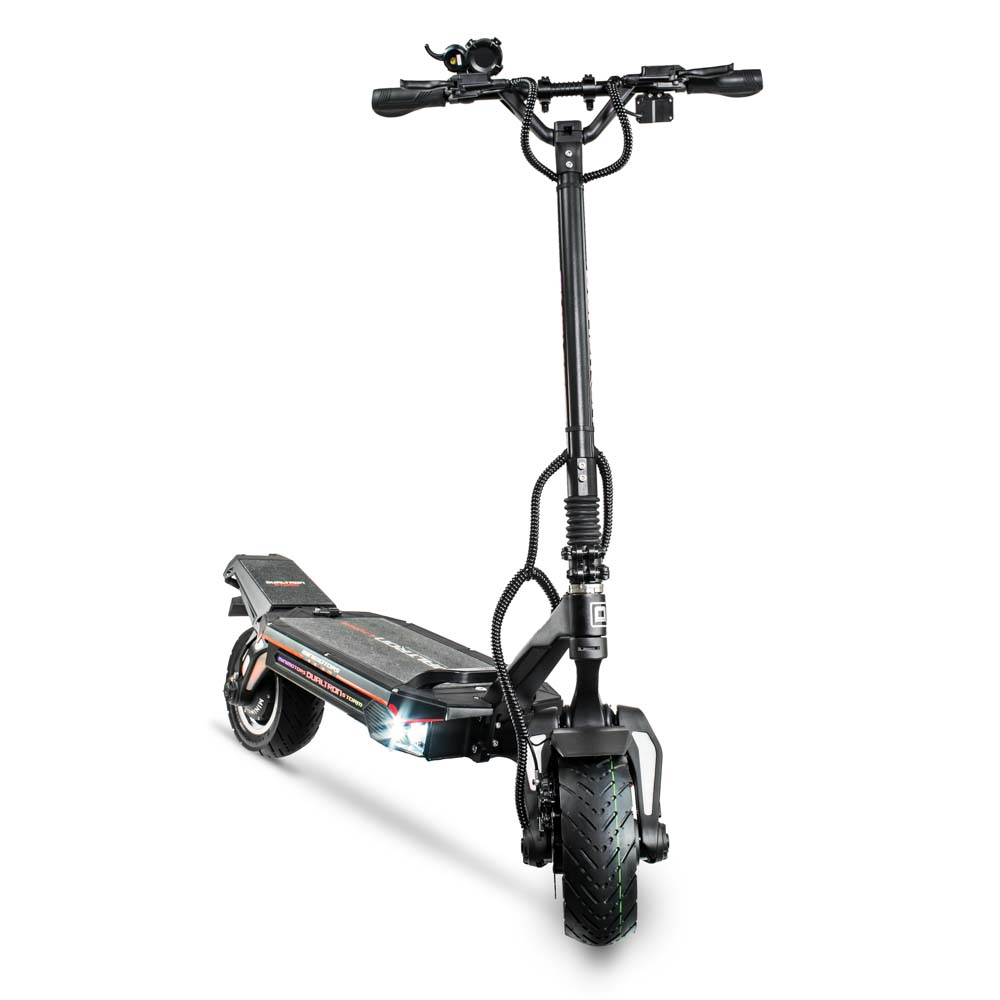 There is no calm before the Storm.
There is never a time when you can feel calm when riding the storm. Equipped with a torquey 6640W dual hub motor, the Storm brings along both speed and power on a ride.
The infamous green backlit LCD screen helps you read better under direct sunlight. More clicky all-around and provides a better water resistant protection to the internal motherboard.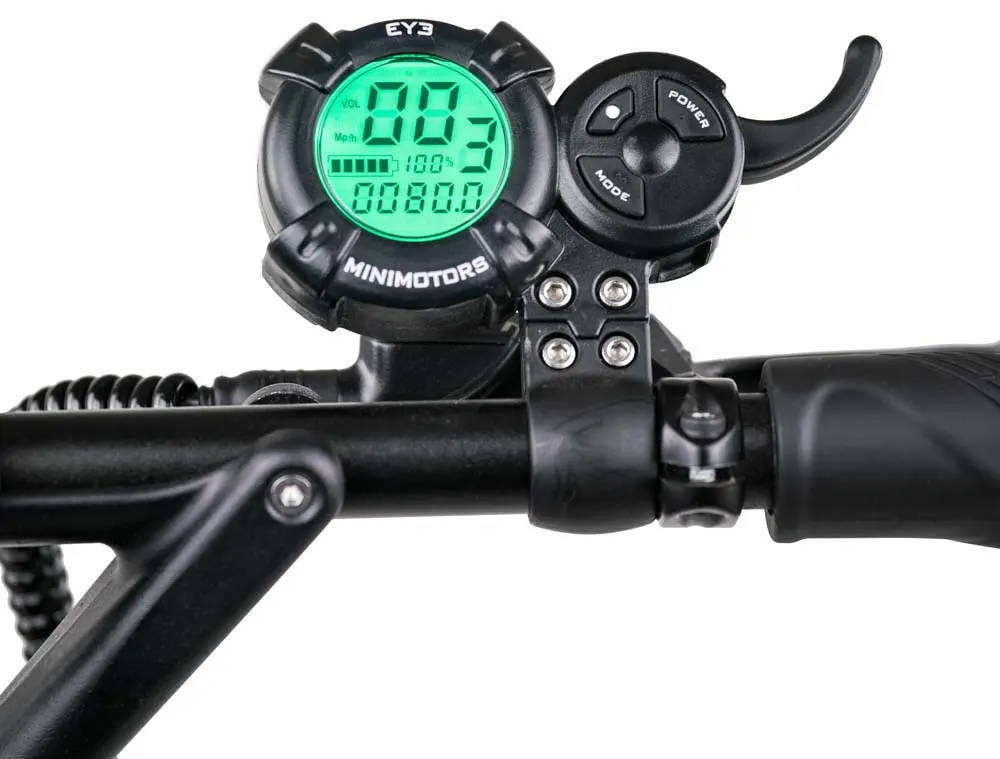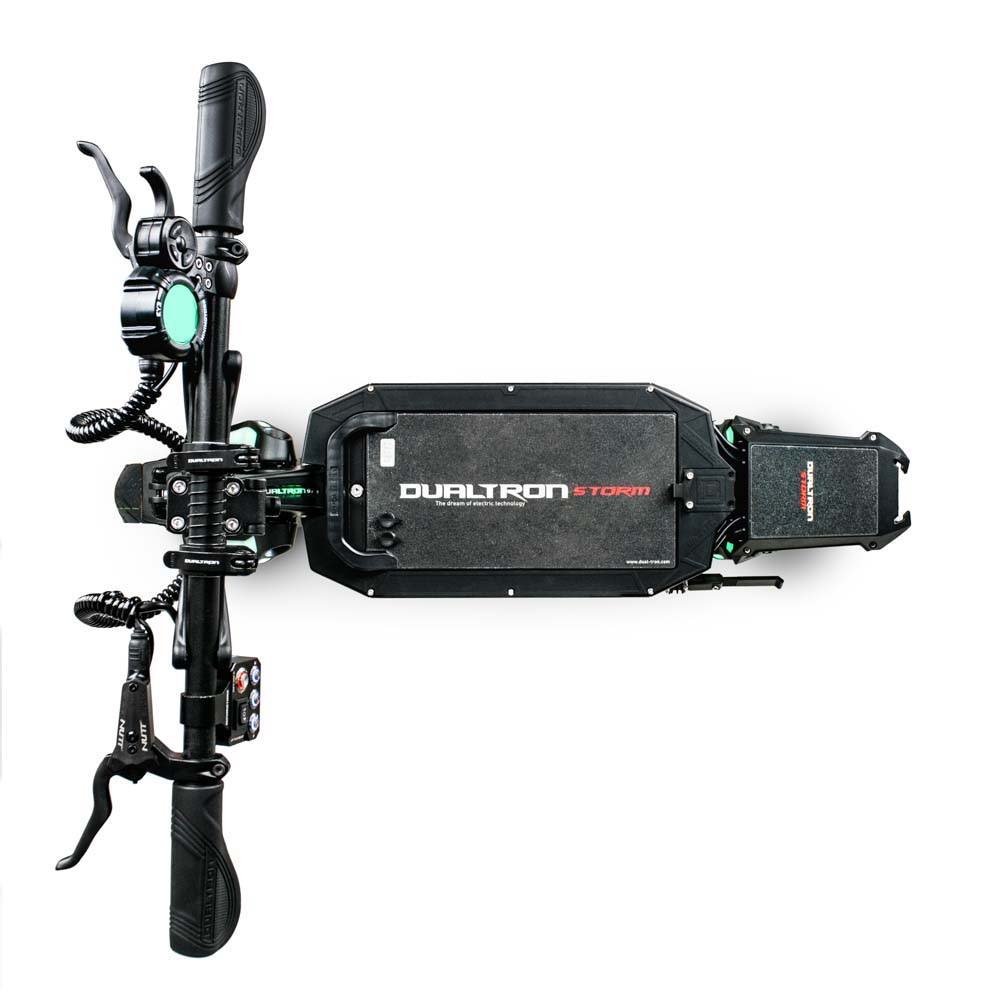 Maintain a stable footing while your heart goes on an exciting ride.
Stability and comfort is just as important as speed. Why take the risk of falling over when you are travelling on such a high speed scooter?
Have the luxury of having both your feet comfortably planted on the deck while your heart goes on a thrilling and fun ride that you have always wanted!
Key Features That You Cannot Overlook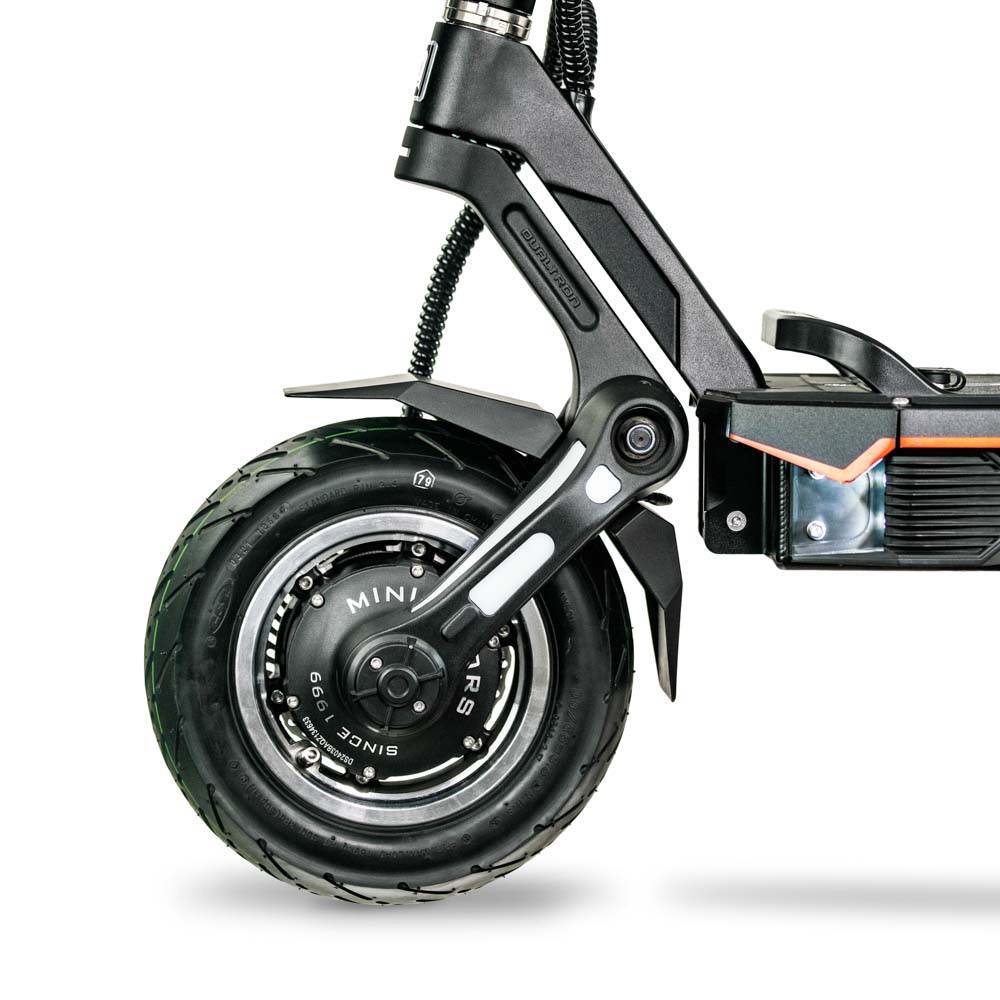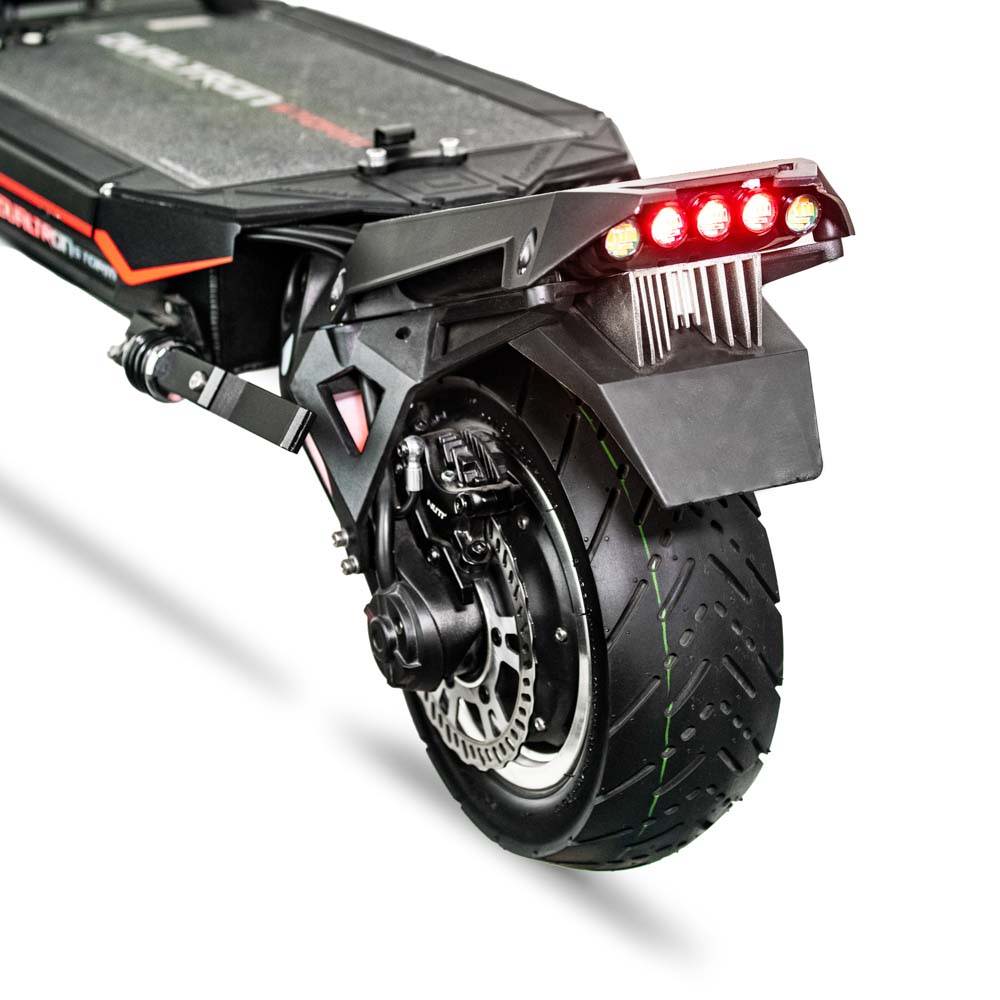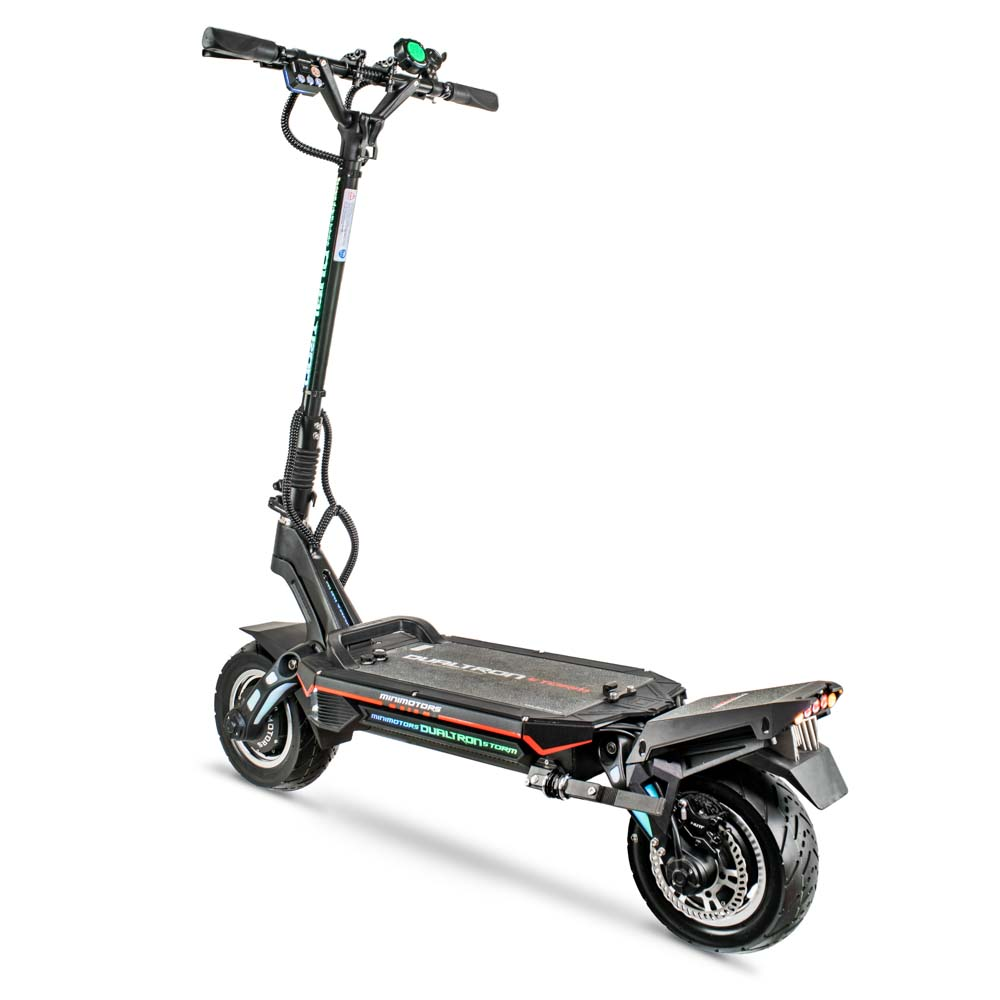 How can you charge such a beast in lesser time? With a dual charging port design, you will be able to charge your battery faster and get out riding again earlier. Reduce your charging time by about 10 hours simply just by using the second port available.
The second controller has been shifted to the back, with a built-in heat sink underneath the controller to dissipate heat while going on high speed rides.
Did we mention that it comes with a detachable battery? Detachable items are normally flimsy and you don't want your battery to fall off half way your ride and dangling behind you. The good news is, you won't. With a battery lock in place, you can ride in peace without the fear that your battery might just slip off any time.
11′ Tubeless Street Tires
Larger tires are generally known to create a safer and more comfortable ride experience. Reduce the chances of getting stuck in small cracks on the ground, drains and any other weird potholes you might come across. Feel more guided, safer on these 11′ x 3.5′ bad boys.
Better Control Over Your Brakes
Equipped with hydraulic brakes, you can now have better control and activation over your brakes. The Storm also comes with Anti-lock Brake System (eABS) which helps reduces tire skidding and tires locking up during an emergency brake. A feature that many high speed riders love.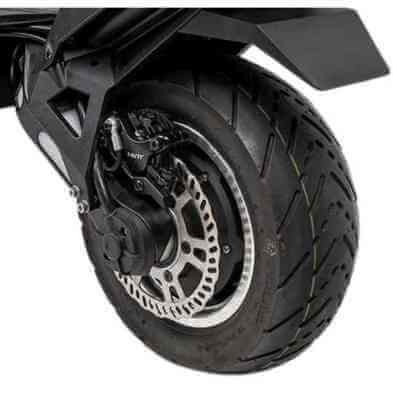 Looking to get a good deal on the Dualtron? Check out our refurbished listing
Price: $4,490
Voltage: 72V
Weight: 102 lbs (46.2 kg)
Range: 59 miles (~95 km), 120 miles (~94.9 km) if you have a spare battery
Acceleration: 0-30 mph (4.5s)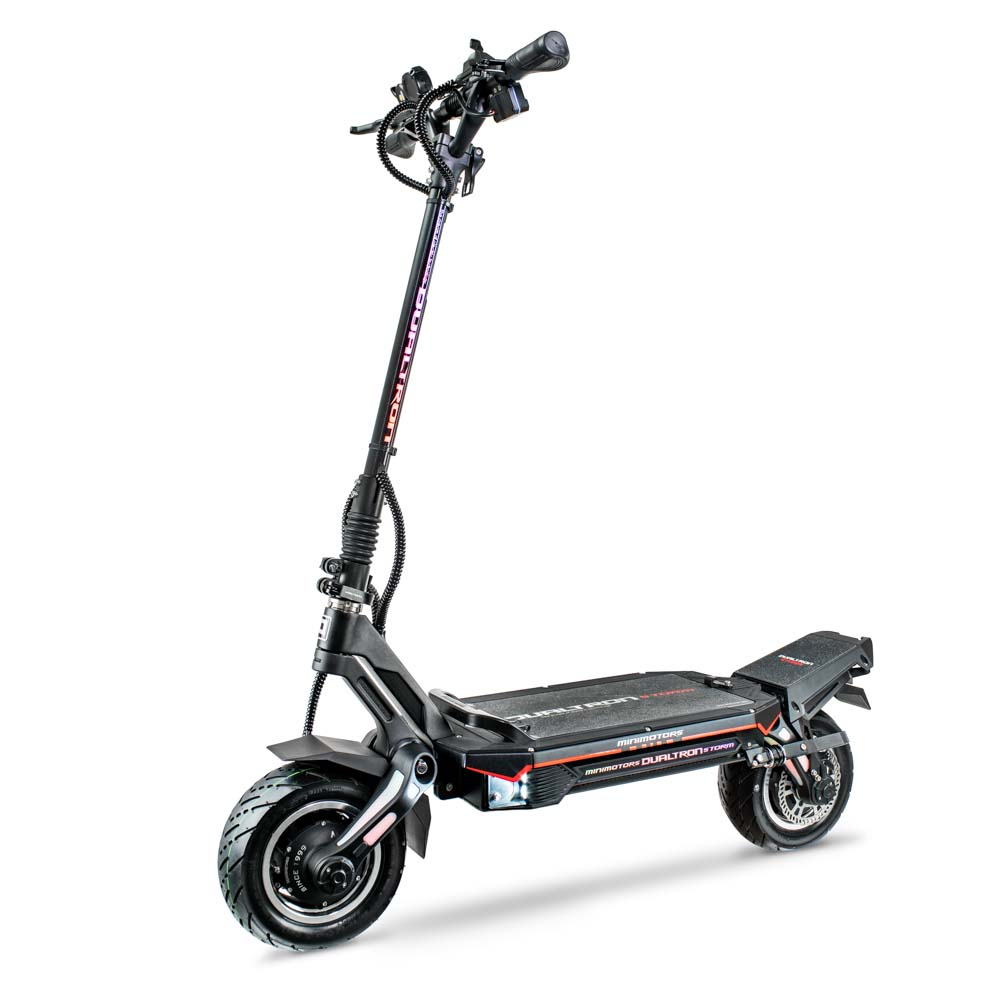 Price: $3,699
Voltage: 60V
Weight: 95 lbs (43 kg)
Range: 48 miles (~78 km)
Acceleration: 0-30 mph (5.2s)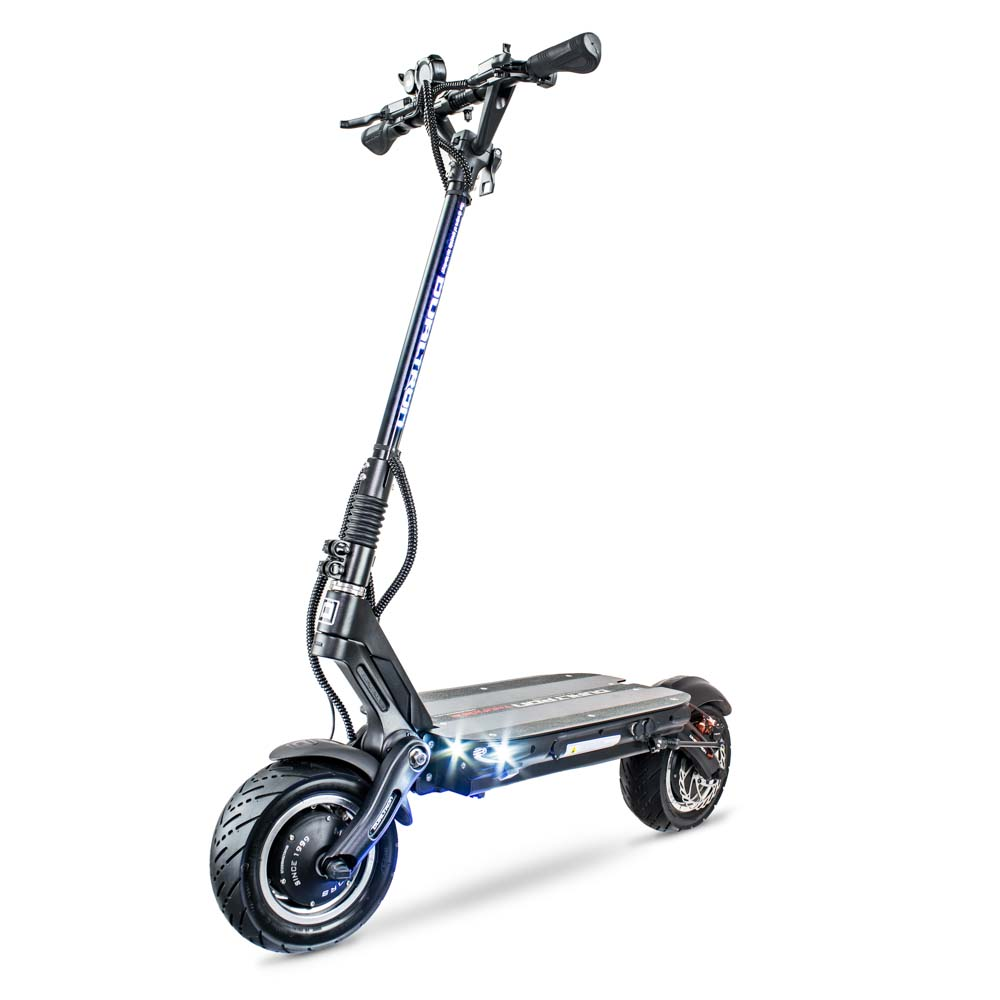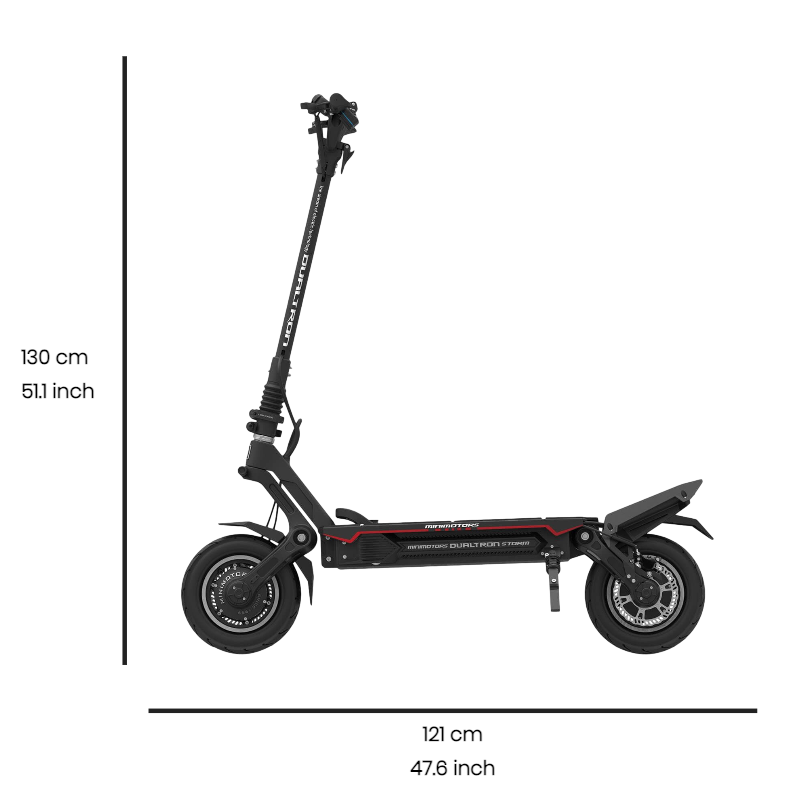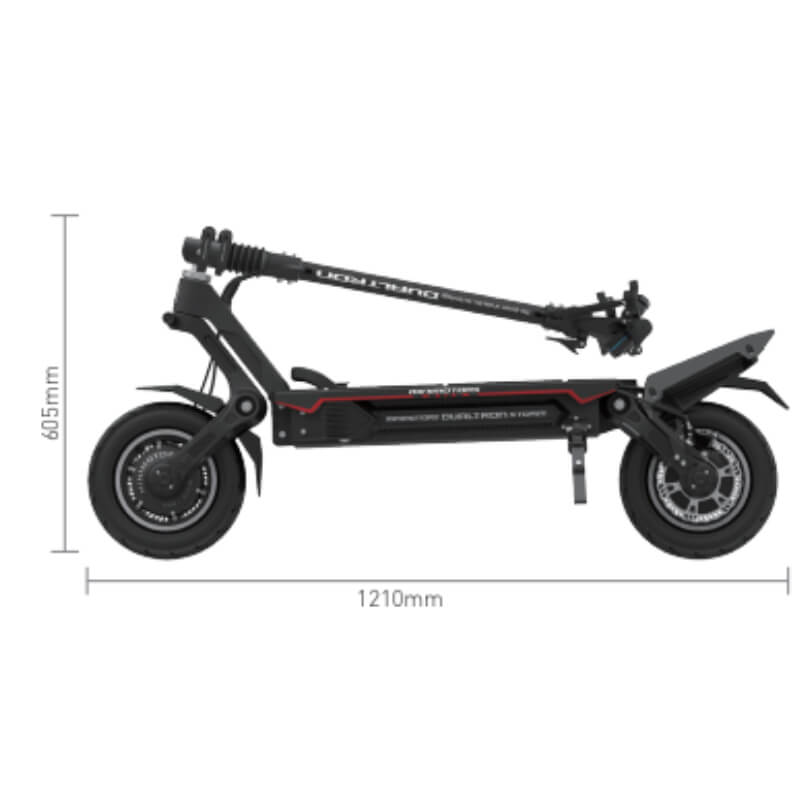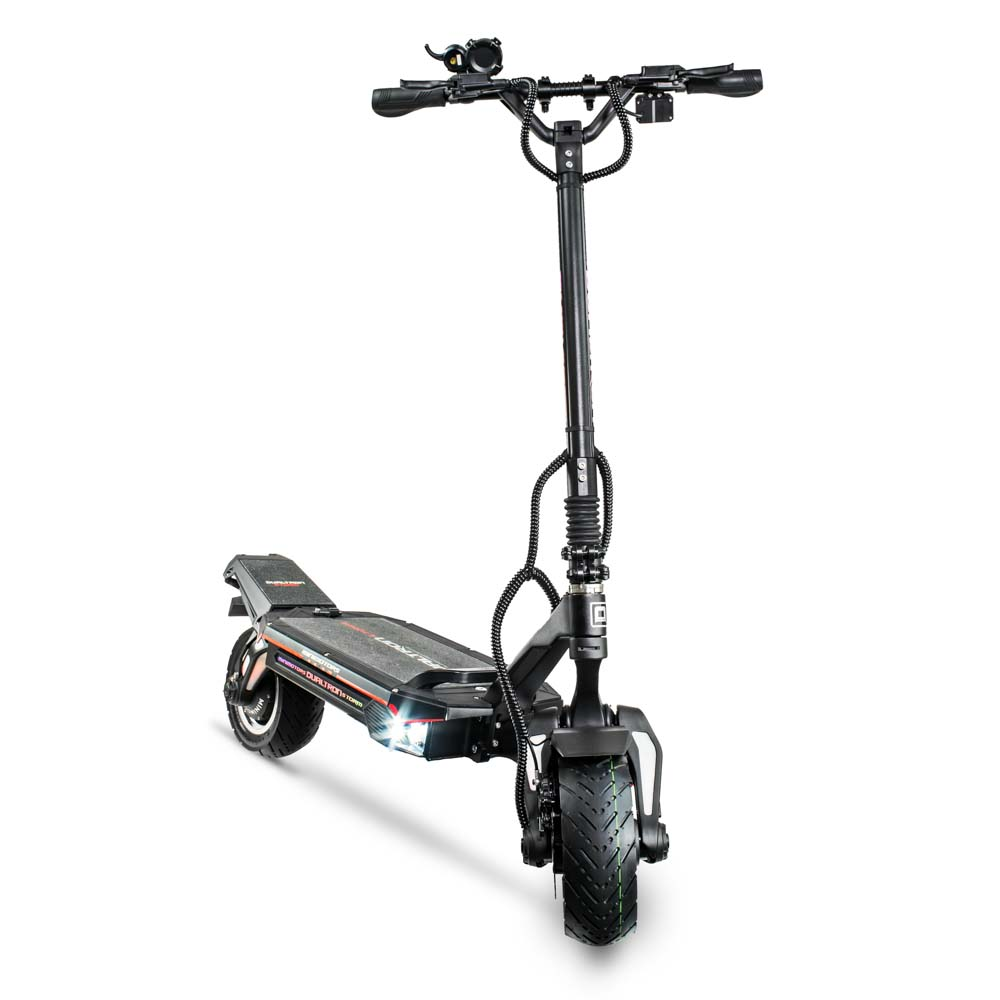 Key specifications (Click To Expand)
Range:

Up to 59 miles (~95.5 km)

Battery:

72V 31.5AH 2268Wh, LG 3500 Removable Battery

Top speed:

59 mph (~95 kmph)

Motors:

Dual 3320W BLDC

Tires:

11′ x 3.5′ tubeless street

Brake type:

Nutt hy

draulic brakes

Electronic brake type:

ABS (Anti-Lock Braking System) can be deactivated with the PD settings

Weight:

102 lbs (46.2 kg)

Max Rider Capacity:

330 lbs (149.6 kg)

Display:

EY3 Minimotors LCD Display

Gradability:

1:1 (100%)

Hill climbing ability: 35 degree
Lighting: Stem lighting, Dual LED Headlight and Taillight, Brake Light, Turn Signals
Charging time: 21 hours with standard charger, 10 hours with 2 standard chargers, 4.8 hours with the quick charger
Charging ports: 2 charging ports
Folded dimensions: To be measured
Unfolded dimensions: To be measured
Warranty: 1 year standard warranty. Get up to 4 years of warranty with EXTEND protection insurance plan.
User Manual: View Manual 
What Is in the package(Click To Expand)
1 x Dualtron Storm
1 x Standard Charger
Official Distributor of Dualtron scooters in North America
with 2 years warranty coverage with every purchase


Exclusive VORO Dualtron Membership
We already own the largest after-sales video support library in the electric scooter industry, and we plan to develop the most comprehensive Dualtron tutorials as well. Plus, you'll have modification tutorial videos so you can DIY if you want. Ask us anytime, and we'll film tutorials based on your needs!

World's Longest Dualtron Warranty
When you purchase a Dualtron, you deserve amazing coverage. Spending $1,000-$5,000 and only getting 6 months of warranty does not make any sense at all. We protect your purchase for a 1 year period. Check out our warranty policy here.

Dedicated Dualtron Customer Support
Instead of talking to different customer service reps any time you reach out, you get a dedicated person that's Dualtron knowledgable, and knows any issues you might have had because you've already talked about it. One person for all your scooter solutions.

Lifetime Discount On Accessories & Spares
As you might already know, no one — even us — gives discount codes for accessories and spare parts. Exclusive for customers that purchase Dualtron electric scooters, you'll get a 10% discount code for all Dualtron accessories and spare parts… for life!

Professional Modifications with VORO
Want a Pro? Our professional technicians can do the modifications for you at our locations. The Best Part? Unlike with most other electric scooter warranties, modifications that we recommend do not void your warranty!
Got a question about warranty, shipping or anything at all?