Sale!
EMOVE RoadRunner
199 in stock
FREE SHIPPING !
Satisfaction Guaranteed
No Hassle Refunds
Secure Payments
Warning: Riding the EMOVE Roadrunner may be addictive. It isn't an e-bike – it's so much better. Our flagship seated electric scooter has a striking, unique design that delivers on form and function. With dual hub motors and a 48V 26.1 Ah Dynavolt removable battery, the Roadrunner gives you up to 53 miles of range. It has a memory foam seat, adjustable handlebars, and thumb throttle to keep you riding comfortably at up to 34 mph. With improvements from the prototype to the current model, the RoadRunner electric scooter comes with a larger (wider and longer) and more plush seat, front fender and longer carbon fiber rear fender, single/dual motor modes, longer foot pegs, Xtech hydraulic brakes, a brighter headlight, and rear turn signals. There has never been a seated scooter like this.
The RoadRunner has a 350W front motor and 500W rear motor
Double your range to over 100 miles when you swap the lockable battery
It also has front and rear carbon fiber fenders, folding handlebars, a bright headlight, and brake light with integrated turn signals
Quality commuting features include pneumatic (inner tube) 14′ tires, Xtech hydraulic brakes, adjustable ABS+ front spring suspension, and anti-slip foot pegs
Backed by our 1 year limited warranty, we'll take care of you, your ride and what you need, just ask our team
Here's the EMOVE RoadRunner User Manual
Designed in California
Have questions about buying the Emove RoadRunner? Chat with our Team
Performance specifications, specifically top speed and range, are VORO estimated values based on multiple linear regression and often differ from manufacturer's projected performance. Range, top speed and hill climbing ability will vary depending upon rider size, riding style, and riding environment (terrain, weather conditions, incline, etc).
Top Speed
34 mph (55.2 km/h)
Acceleration
4.4s (0-15 mph)
Max Load
330 lbs (150 kg)
Item Weight
55 lbs (30 kg)
Motor
(F) 350W | (R) 500W
Battery
48V 26.1Ah Dynavolt
Controller
48V Square Wave
Dimensions Low
32" x 50" x 25"
Dimensions High
38" x 50" x 25"
EMOVE Roadrunner ushers you into the next generation of scooting, with a seat, sporty design, and racing feel for both chilling and thrilling rides. Together, the 350W front motor and 500W rear motor effortlessly power you up to 34 mph.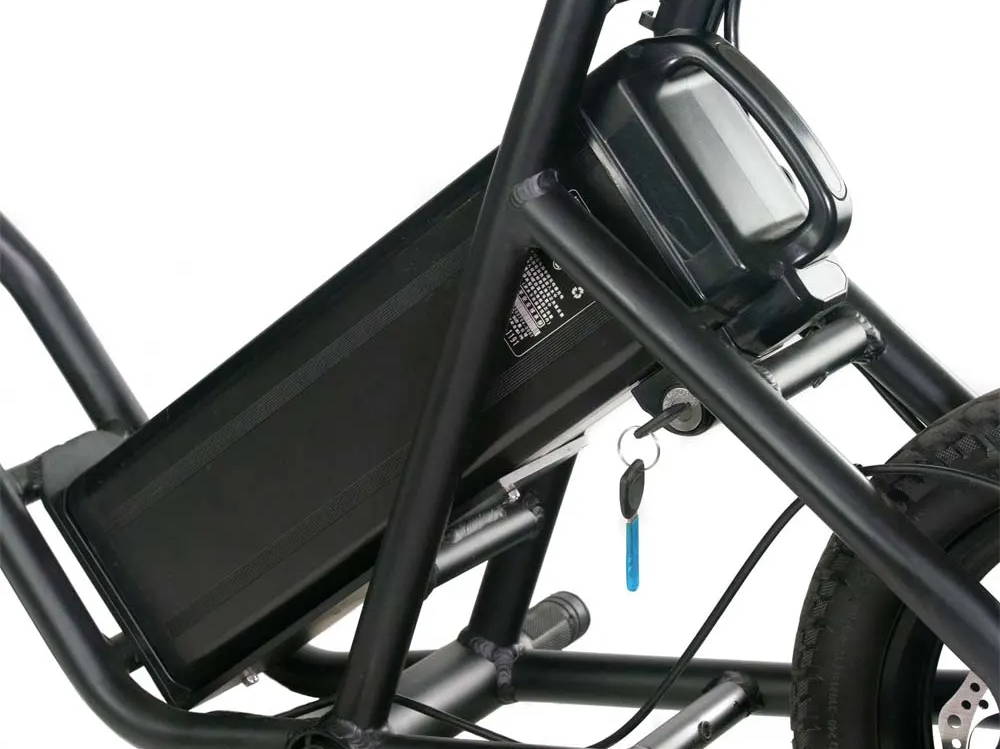 Ride up to 100 miles with a single swap
With the EMOVE RoadRunner, range anxiety is a thing of the past. The removable 48V battery was designed by VoroMotors, and is built to easily swap out and lock up. With a key lock and handle at one end, it takes less than 10 seconds to slide one battery out and a spare battery in to double your range from 50 to 100 miles. With the charging port on the battery, you can conveniently power up whether it's in or out of the scooter. Shop for Extra or Replacement Batteries.

Using the multi purpose tool kit that comes with your RoadRunner, you can quickly and easily change the handlebar height.
Xtasy folding handle bars
Designed specifically for the RoadRunner, these handlebars lock tight in place for zero wobble while riding.
Don't want to stop riding? Upgrade with a backup battery, and swap in 10 seconds for over 100 miles of range.
With buttons for power and riding mode and a 1-color display, you can easily check speed, battery charge, and trip length.
The RoadRunner has a super bright front headlight, one of the brightest stock headlights on any seated electric scooter.
For added safety, the RoadRunner has a safety light mounted under the seat on the rear, so other riders can see you on the street.
E-Bike vs E-Scooter: why ours is better
If you've ridden an e-bike, the Roadrunner will be an upgrade. Here is a quick comparison of the electric bikes in the same price class.
Around 34 mph top speed

26Ah battery capacity

Scooter is powered by dual hub motors

Apartment friendly storage

Long, memory foam seat
Around 25 mph top speed

14Ah battery capacity

Bike is powered by you, with help from one motor

Garage friendly storage

Small, hard saddle
Have an Ebike? See why you should switch.
There are so many reasons to switch to the Roadrunner. Here is a quick comparison of the electric bikes in the same price class.
26Ah battery capacity

Hop on and go – Huge battery capacity to achieve the range

Front and rear geared hub motor

Apartment friendly

Long, memory foam seat
7.8Ah to 14Ah

Pedal assisted range, but you do most of the leg work

Single brushless motor

Require more space or bike racks

Tiny saddle
Designed to suit all riding styles
Our flagship EMOVE RoadRunner is perfect for city commuting and weekend cruising, angle the handlebars low, high or wherever you like. Customize the RoadRunner for your style.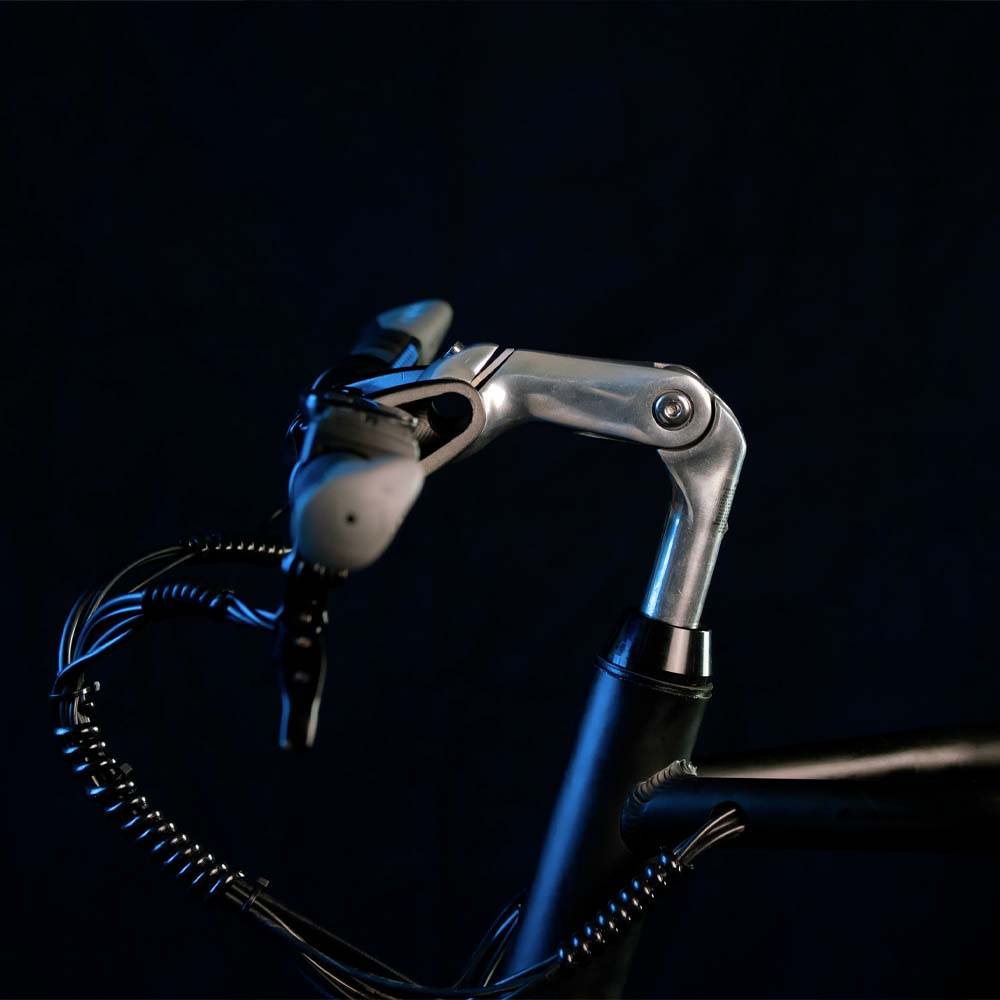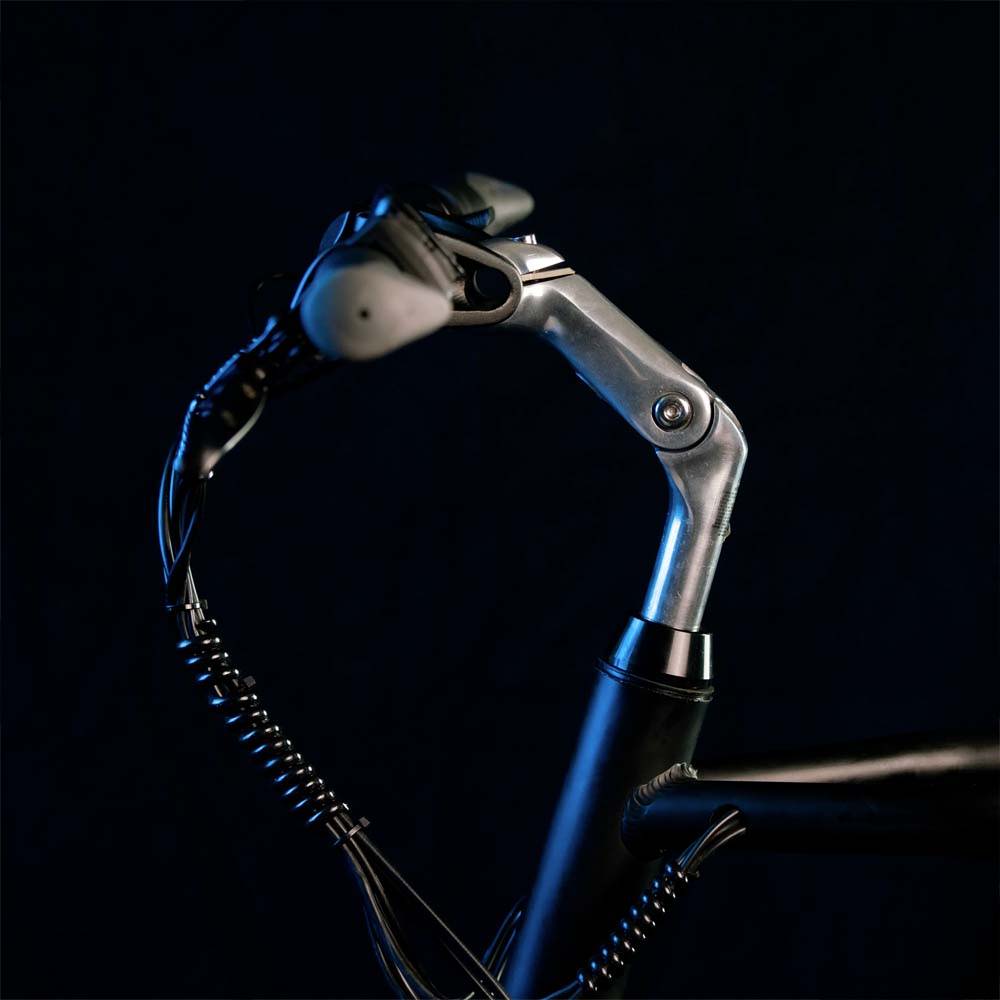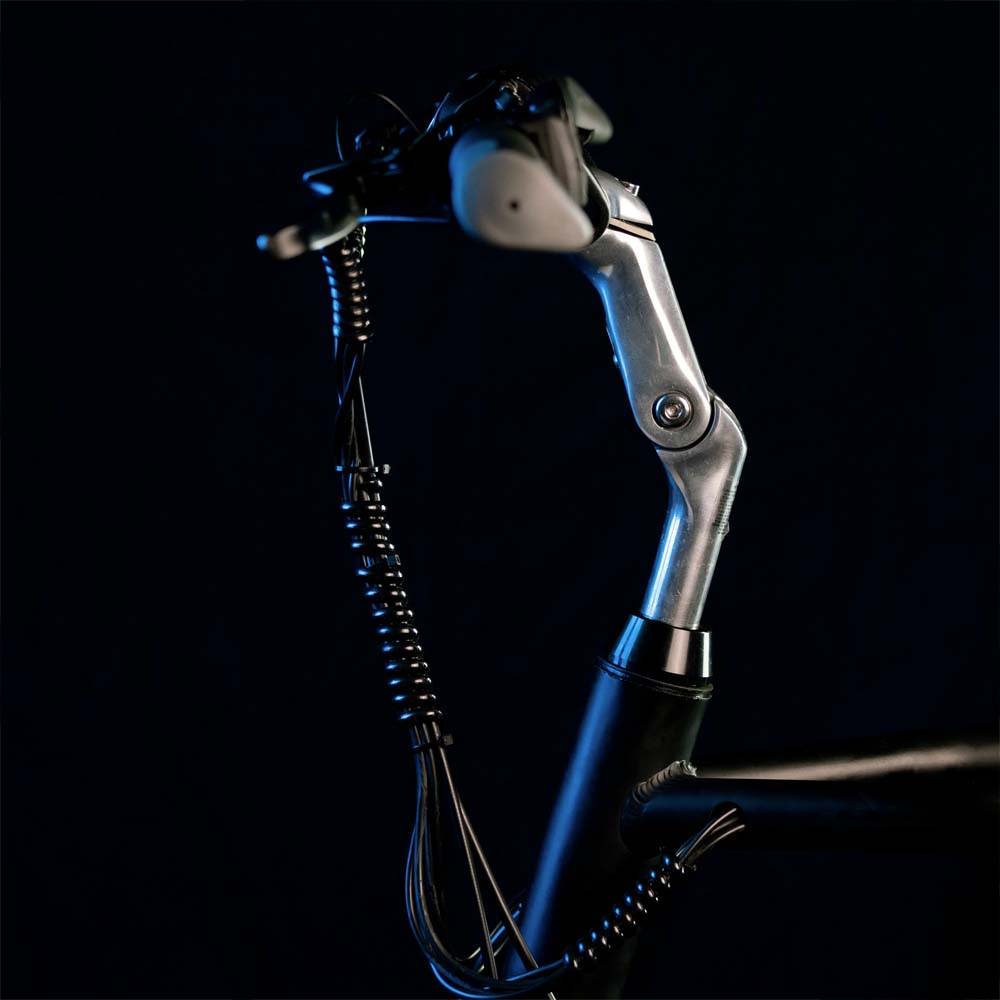 The long memory foam seat makes long commutes that much more comfortable. With no springs underneath, you'll feel supported and stable, not wobbly.
With Manitou Absolute+ (ABS+) dampers, the front suspension is can be adjusted with the turn of a knob. With 8 settings, you can customize the resistance to your comfort.
Twin encapsulated spring shocks at the front of the RoadRunner combined with its big 14" tires soak up rough terrain when riding on street or trail.
Ergonomic rubber hand grips, hydraulic brake levers, easy to control thumb throttle, and simple LCD display that lets you see what you need without any distractions.